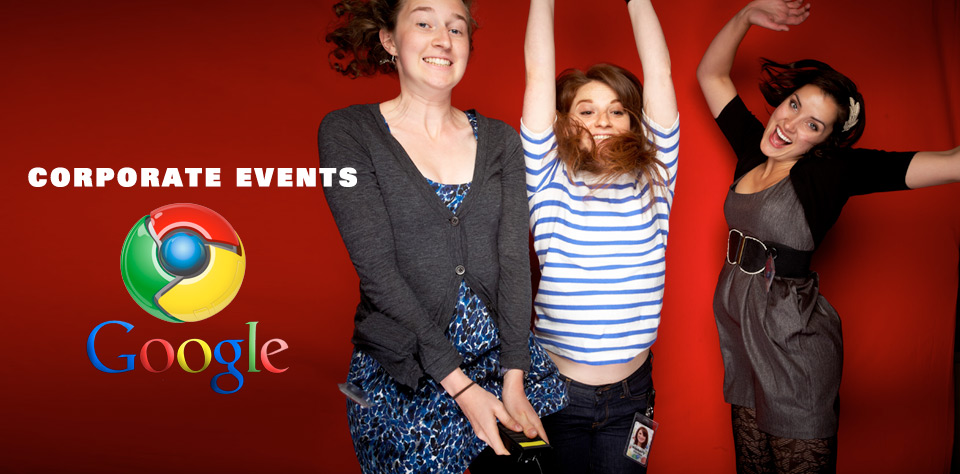 Want More Return on Your Events?
We are a proven tool for companies to acquire new users, increase web traffic, collect email addresses, boost booth traffic, and excite social media activity! We stand out with our photo sharing, on-site email subscribing, company-branded back drops, white-label services, and our ability to integrate with your online new-user portal.
Get the results you deserve while providing the fun event service that everyone will talk about. Enforce a high-quality brand recognition with our high-quality photo experience. Get everyone smiling and coming to you with LA Photo Booth corporate services!
To Conference Coordinators
We offer white-label services for conferences that wish to re-sell our services to event sponsors. Contact us for details!
Corporate Booth Features:
(in addition to standard features!)
 

Collect Email Addresses

Get your guest info! We offer a touch-tablet that allows users to subscribe, (ex. to be notified when their pictures are online)!

 Acquire New Users

Get new users to setup an account profile on your platform! We have a network system and simple process to make it happen!

 

Ice Breaker for Events & Conferences

Break the ice with photos and smiles! People love our setup and are caught off guard with the quality, free photos and fun experience!

Sharing

People love sharing our photos! It always happens. They become profile pics and hot topics of social commentary. Become the conversation and spread your brand!

 

 Branding and Recognition

We offer premium branding with company backdrops and photo logo watermarking, because our photos travel!

 Social Marketing

Gain likes and social commentary with simple features such as, "like us to download your photos", photo tagging, and sharing offers!

 

Quality Perception

Our photos are often the best photos the guests have ever had, because we us beauty lighting techniques perfected on LA models and celebrities! Your quality perception will get a lift!

 

Promote Networking

People get together, smile, laugh, touch, and we capture the memories!

 

Re-Marketing

Events cost a lot. We offer the opportunity to continue the conversation, and re-market to your new leads!

 

 Multiple Impressions

People see your brand at the photo event, in the email, on your landing page, on Facebook, in social sharing, and printed in frames! Our photos travel!

 

Post Event Web Traffic

We offer the ability to direct the conversation to your web site after the event. Strengthen your message, up-sell, promote sharing and offer incentives!

 

Add Value to Event Host

Get in good with the event host and conference committee! They'll love you for the talk, the fun, and the publicity!
| | |
| --- | --- |
| | |